LEEK United's Veronica 'Ronnie' McNeil gave East Cheshire Hospice (ECH) a 'tree-mendous' helping hand after becoming a 'Branch Manager' of a different kind for the day…
Ronnie, who runs the Society's Macclesfield Branch, joined other volunteers for the Hospice's annual Christmas Tree Collection this month (January).
Now in its 20th year, the collection and recycling event raises vital funds for the Hospice by putting householders' unwanted old 'living' festive trees to good use.
People make a donation to the ECH when they register their tree for collection, and teams toured the postcode areas in and around the Hospice picking up over 7,000 trees for shredding.
"This is the second year that Leek United has sponsored one of the collection vans, and I wanted to join them again by helping on the rounds," said Ronnie.
"Many of the old trees we collect would otherwise end up on rubbish dumps, so this is a great, fun way to raise funds for the Hospice – one of the Society's main charity beneficiaries – and the amazing work it does in our community."
Each year, the Christmas Tree Collection raises over £100,000 and last year ECH reached the cumulative sum of £1million raised since the collection started.
Kate Bowmar, Corporate Fundraiser at ECH, said: "We are extremely grateful that Leek United offered to sponsor a van for our annual Christmas Tree Collection for the second year in a row, and were delighted that Ronnie volunteered to join us again.
"Every year we rely heavily on the generosity of local businesses such as Leek United to cover the cost of running the collection, meaning all donations received will go directly to supporting the Hospice."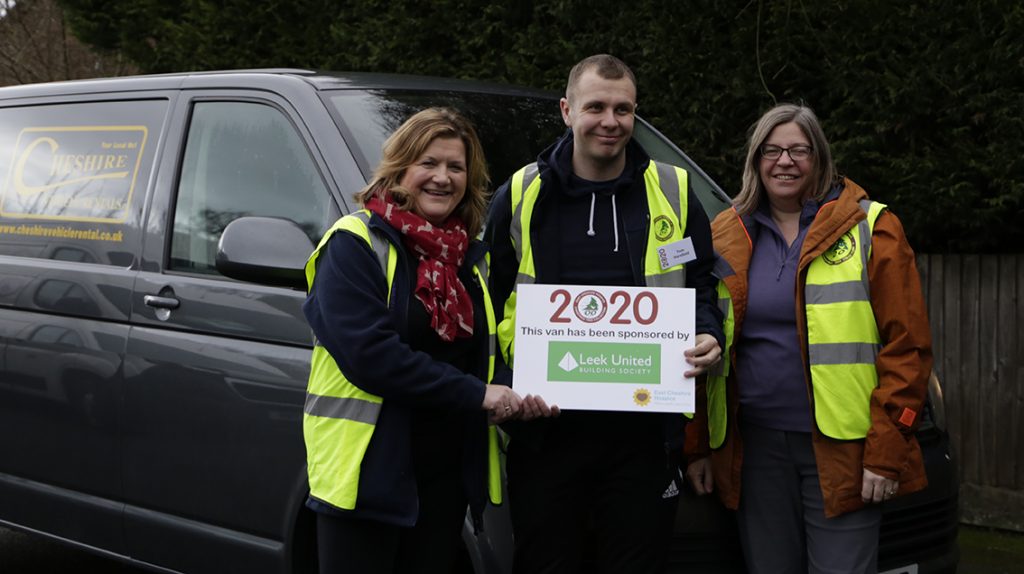 Leek United's Macclesfield Branch Manager Veronica 'Ronnie' McNeil (far left) is pictured with fellow volunteers Tom Horsfield and Georgina Timson in front of the van sponsored by the Society for the tree collection.