See for yourself one of Cheshire's newest and most amazing pieces of artwork – and meet the artist who created it.
Susie MacMurray will be in conversation during her spectacular Gathering exhibition in the Staircase Hall in the Mansion at Tatton Park.
Her opening talk is Thurs 25th July and further conversations are on Thurs 15th Aug, and Fri 29 Sept (all times 12.30 pm to 1 pm).
Susie will be explaining about the piece, inspired by East Cheshire Hospice, and her influences and practise.
Talks are free though usual mansion entry applies. Spaces are limited and groups are welcome. To register go to www.gatheringattatton.com/visit.
The installation, featuring thousands of hand-stitched elements, is suspended from the  Mansion's grand rotunda. It is on display until Oct 6 as part of Art Fair Cheshire 2019.
During the exhibition elements can be bought in unique editions, with all profits supporting Hospice care.
Individual elements  are £30; small sculpture £500 (limited edition of 75); large sculpture £1,500 (limited to 15) and a painted watercolour of Gathering is £225 (75 only). Each is signed and numbered by the artist.
For more details go to www.gatheringattatton.com/store.
Pieces will be available for collection from mid October 2019. Postage charges will apply for purchases sent.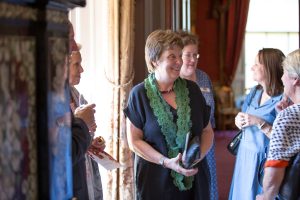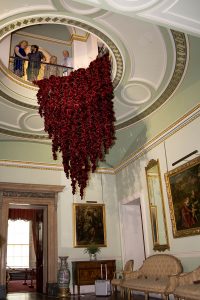 Art Fair Cheshire celebrates its 20th year with an exhibition at Macclesfield Town Hall (Thurs, Sept 26 – Thurs, Oct 3). For more details go to www.theartfair.org.uk.