"My husband was treated like royalty by every member of the team in every way possible. This service is second to none as far as myself and my daughters are concerned. They are all very, very, special people."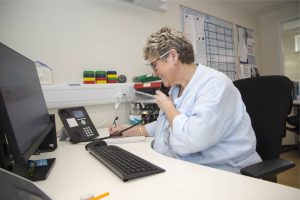 East Cheshire Hospice has been serving the East Cheshire community for over 30 years and we have the knowledge and expertise to deliver end of life care effectively and compassionately.
Given the choice, most of us would like to spend our final days in a place where we feel most at home. However, for many people this is not possible due to limited resources which can lead to unwanted admissions to hospital.
Therefore, the Hospice took on the challenge of developing a flexible Hospice @Home team to help increase palliative care resources in the community. The service launched in 2017 and has adapted over the years to provide additional support to patients who wish to remain in the place they call home in the final months of their lives.
We believe that people facing end of life should have the choice to receive care wherever they feel most comfortable, and the Hospice @Home team are here to provide you and your loved ones with complete peace of mind.
In 2020 the Hospice @Home team became an integral part of the Palliative Care in Partnership project [PCiP], giving us the opportunity to share our knowledge and experience and bring together partner organisations to work in collaboration to redesign how domiciliary end-of-life care is delivered across Cheshire, and ensure everyone has equitable access to high quality end of life care.
How can we help?
East Cheshire Hospice @Home has been developed to try and give end of life patients more choice and control. Our aim is to empower people to remain at home if they wish to, by offering high-quality end-of-life care and support in the community. The team is made up of experienced specialist nurses and highly trained healthcare assistants, who can offer hands-on practical and nursing support, to enable patients and their families who are coping with an end-of-life situation to remain at home whenever possible.
Our main role is to provide support in a number of ways when other services are limited, and we will also provide support and care for your family, carers and other loved ones.
The fully functioning East Cheshire Hospice @Home team now co-ordinates and provides day and night support for any patient and their loved ones living within East Cheshire, who requires end of life care. We also work in collaboration with Marie Curie who provide our night sits.
How do I get referred?
If you require extra support, please speak to your District Nurse, Macmillan Nurse, GP or hospital team, who can quickly refer you to the Hospice @Home Service.
What we can offer
The care provided by the team will then be tailored to your specific needs and preferences, following an assessment by your District Nurse or a qualified East Cheshire Hospice @Home nurse. Our aim will be to stabilise your symptoms and offer support so that you can stay where you feel most at home.
For questions regarding our services, please contact the Hospice @Home team on 01625 664 999
If you would like to support the Hospice @Home you can donate HERE.
To complete the Palliative Care in Partnership – Patient and Carer Evaluation, please click here.
For more information on what services we can offer, read our Introduction to the Hospice @Home services leaflet below.
Use the controls to expand the leaflet to full screen!