East Cheshire Hospice held a thank you event for solicitors who supported the charity's Will Week.
A total of £7,618 was raised after local legal firms donated their time and expertise to help the Hospice.
Solicitors waive their usual fees in return for a donation to the charity during October's campaign.
Taking part in 2018 were SAS Daniels; Blunts Solicitors; Bennetts Solicitors; Poole Alcock, Congleton;
Alfred Newton, Bredbury; Stratford Solicitors; Poole Alcock, Sandbach; Woods Solicitors, Alfred Newton, Stockport and Wilmslow and PSG Law.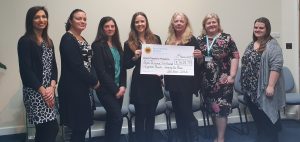 Hospice Corporate Fundraiser Kate Bowmar said: "Will Week is an important part of our fundraising calendar and we thank solicitors for their kind support.
"It wouldn't be a success without the goodwill and generosity of the public, so we thank everyone who made donations and hope others will also take advantage of this special opportunity in 2019."
Will Week is from Oct 7-11 this year and coincides with Hospice Care Week.
A list of participating solicitors will be published on the Hospice website and on social media pages in July for bookings.