An East Cheshire Hospice charity shop volunteer, who "lights up the room with his personality" has been given a special award.
Guy Rigby, who has cerebral palsy, has been presented by the Macclesfield-based charity with a Customer Champion Certificate to mark his great commitment and enthusiasm.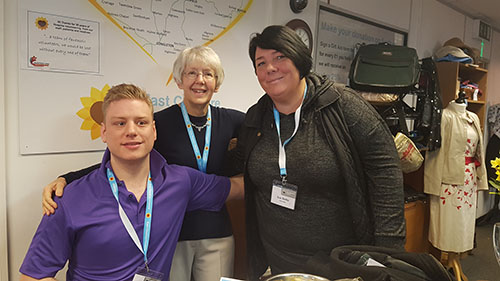 His working journey began 18 months ago when Guy, who lives in supported living accommodation, told his carer Sue Selby that he'd like to do something purposeful. Within weeks, Guy was welcomed on a part-time volunteer basis into the Hospice charity shop fellow volunteer Anthea Lee.
Sue says: "Guy began with some pretty basic jobs like stacking and tidying the CDs but soon he developed a great rapport with the customers and now he works mostly on the main till engaging with everyone who comes in."
"Guy sometimes needs to take it slower than other people, but he's always been able to light up a room with his personality and the customers in the shop have really taken to him".
Hospice Volunteer Co-Ordinator, Helena Smith, says Guy is a real asset to the shop.
"He has grown massively in confidence and ability and is so good with people in the shop – both customers and other volunteers," says Helena.
"Within the Hospice, we constantly work to adjust and adapt to peoples needs and its good that we can also take this into the community. Our charity shops act as little community hubs and Guy's contribution is a part of that."
The Hospice has three charity shops – in Thornton Square, Handforth and Wilmslow – which all run mainly with the help of volunteers. Full training is given and anyone who would like to commit some time as a shop volunteer can contact Helena on 01625 664984.