Round-the-world sailor Heather Broadbent is preparing to embark on her epic voyage on Sunday (Sept 1).
Heather will spend 11 months at sea competing in the Clipper 2019-20 Round the World Yacht Race which starts at St Katherine Docks in London.
The landscape gardener, from Disley, will be on board the 70-foot ocean racing yacht GoToBermuda for her trip-of-a-lifetime.
Heather is hoping to raise £40,000 for East Cheshire Hospice where her late husband Adam (45) was a patient.  Adam died of cancer in 2013.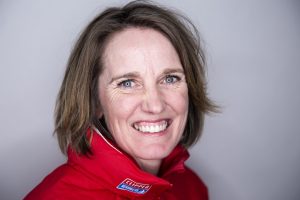 Heather has already raised £22,750, a total boosted by £6,500 after her adventure was featured on the regional BBC 1 programme North West Tonight.
The funds will go towards supporting the charity's Hospice @ Home service which has treated 626 patients since it began in October 2017.
Heather, who has two grown up daughters, said: "I'm so excited and can't wait for the race to start.  I've completed all my training and if anyone can sponsor me, they'll be supporting a marvellous cause. My aim is to raise a pound for every mile of the 40,000-mile journey.
"I've already met half our crew, and everyone has been absolutely wonderful. We've all got the same mindset but we realise that spending so long together at sea in a confined space will be a challenge.
"I'm looking forward to visiting every port, especially Bermuda which sounds like a fabulous island."
Heather has been appointed team co-ordinator, supervising a rota so that no-one is on duty for more than 12 hours during a 24-hour period.
Heather said: "It's a huge honour and quite a task making sure everyone is in the right place at the right time with the correct kit."
To help her, she will test a new Dell Latitude Rugged laptop supplied by the computer company so she can also send back pictures, vlogs and blogs.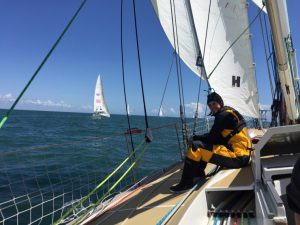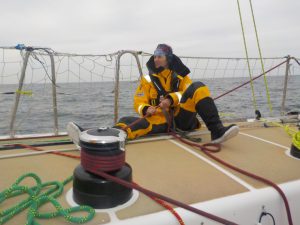 Heather Broadbent will be travelling light at sea.
Each crew member has a 15-kilogram weight allowance, set by their team, for individual cubby holes.
Heather said: "We're allowed to carry less weight than someone would probably take for a weekend away, but as you can imagine there's little room on board.
"I'm taking three changes of clothing but no luxuries, so I'll leave behind my face cream.
"I'll have my own sleeping bag but won't have my own bunk bed. There could be 22 people on board at any one time and due to the watch system we 'hot-bunk.'"
Racing on board the 70 ft racing yacht GoToBermuda, Heather is one of only two women among her eight-strong amateur crew undertaking a full circumnavigation of the globe under the guidance of a professional skipper and mate.
Other crew members will join the GoToBermuda team for different legs of the journey as they compete against 10 other crews.
The fleet will call at ports in Portugal, Uruguay, South Africa, Australia, China, the Philippines, Panama, the USA (Seattle and New York), Bermuda and Derry-Londonderry, Northern Ireland, before crossing the finishing line in London 11 months later.
* To sponsor Heather and read her blogs visit eastcheshirehospice.org/heather