Understanding a child's grief
We are never too young or old to experience the death of someone important to us. Finding ways to cope is different for everyone. Children and young people can face different challenges to adults.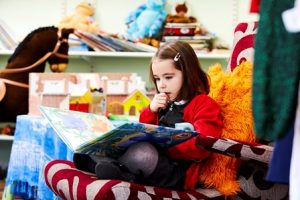 At East Cheshire Hospice we offer children and young people, who have someone close to them diagnosed with a life limiting illness, or who has died within the last three years time and space to explore their feelings.  This may be in the form of counselling, play therapy, or taking part in activities in a supervised group with others. This can provide support and help to develop a child's resilience as they experience the loss of a loved one.
When someone has died it can be challenging to know how to behave and express our feelings to family, friends and teachers. It can also be hard for us, in those roles to know how to respond to our children. The Hospice Children's Therapies Team offers support for families, teachers and healthcare professionals working with bereaved children through training events, group work and over the phone to those supporting children who have experienced the loss of someone important to them.
Please feel free to download our leaflets about our service and talking to children about death and dying or get in touch for further information about our services or your needs.