Since opening in 1988, East Cheshire Hospice has had the privilege of caring for and supporting countless members of our local community – all with their own unique stories and experiences of the Hospice.
If you have experienced the care and support of the Hospice, be it first-hand or as a family member or friend, we would love to hear from you.
Your stories and testimonials not only give our hard-working staff vital acknowledgement, but they're also useful in helping to promote the work we do and continuing to raise vital funds, ensuring that our doors remain open and our services available and free to those that need them, now, and forever.
Here is a quote from Susan's story… "Despite the tragic circumstances, I will always be grateful to the Hospice for the time we had there. The staff treated Lucy and the family with respect, dignity and kindness. I want to ensure that as many people as possible realise how dependent on donations and fundraising the Hospice is. There are so many ways this can be done both large and small, from loose change in a moneybox to running and even knitting."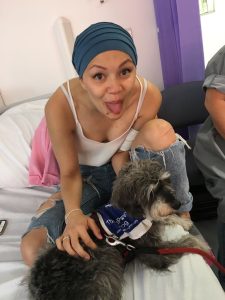 Susan's daughter Lucy was cared for at the Hospice in 2017
If you would like to share your story, please fill in the form below, or email directly to stories@echospice.org.uk or call 01625 433477.
Please note that by submitting your story, you are consenting for East Cheshire Hospice to use the content provided in future marketing and promotional materials. If you would like to remain anonymous, please let us know in your submission.