Let Us Remember
We come to Remembrance Day this year, as a different kind of disaster is affecting the whole world, making our act of remembrance more poignant. Whether loved ones died 50 years ago, 20 years or 10 years or just a few months ago, the feeling of loss goes very deep, and the desire to remember never diminishes. In fact, the events of this year, have perhaps highlighted the importance of remembrance, respect, and gratitude.
Last week, the Queen made a solo journey to the tomb of the Unknown Warrior, marking the centenary of that monument, which commemorates the memory of all the fallen from all walks of life, who sacrificed their lives for the sake of others. This serves as a reminder to us that every single person matters, every single person deserves respect, every single person deserves care and consideration. If there is any lesson to be learned from war, it is that it is destructive. We show respect and gratitude to those who suffered and died in the wars of the 20th & 21st centuries, by striving to be constructive, aiming to build a better world where everyone is treated with the respect and consideration which is their due. This is the point of REmembrance, which is all about RE-establishing, RE-building, RE-storing… always within the context of community – family, neighbourhood, nationally and internationally. This is why, year after year, we have the solemn duty of remembering and honouring the memory of those who  sacrificed their lives in the hope of building a better world for everyone, of every colour, nationality, race, and religion.
And even though we are unable to physically gather together this year – because of a different enemy in our midst, and in spite of any differences there may be between us, we can still be deeply united by our joint desire to remember and give thanks for those who have suffered and died on our behalf. Today, we are brought together by remembrance – and in this remembrance lies our hope for the future. That is the greatest tribute we can pay to those we remember on this day.
– Hospice Chaplain, Margaret Lillis
They shall grow not old, as we that are left grow old;
age shall not weary them, nor the years condemn.
At the going down of the sun and in the morning,
We will remember them…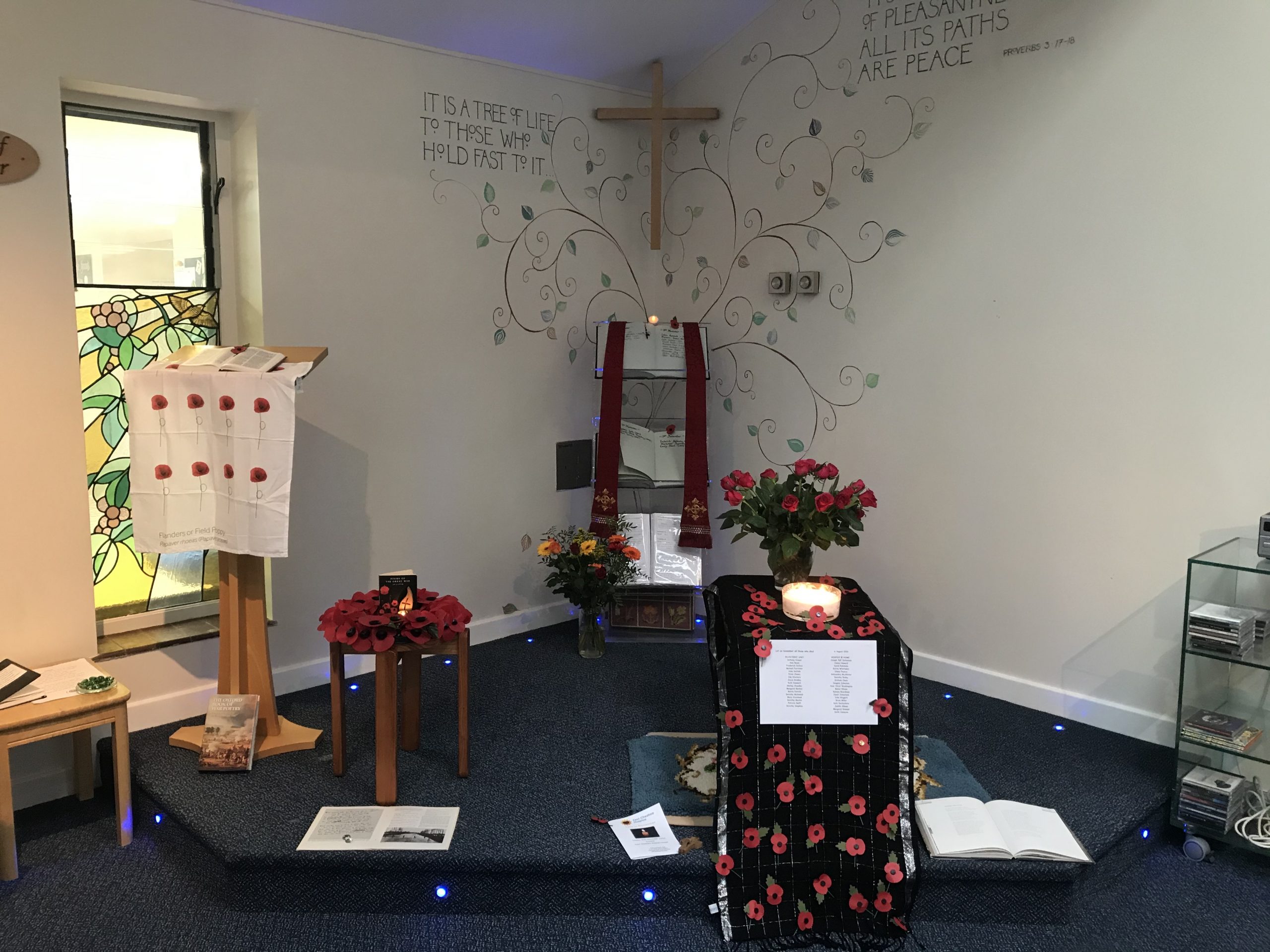 Poppy display in the Hospice chapel