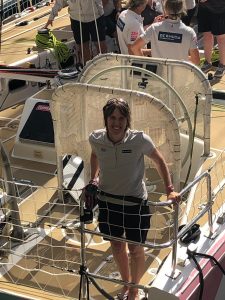 Round-the-world sailor Heather Broadbent is approaching South America after six weeks at sea.
The landscape gardener, from Disley, will arrive in the Uruguayan port of Punte del Este in the next few days.
She will then set sail for Cape Town in the third race of the Clipper 2019-20 Round the World Yacht Race.
Heather is aboard GoToBermuda which is among the chasing pack in the 11-strong fleet.
Heather is hoping to raise £40,000 for East Cheshire Hospice where her late husband Adam (45) was a patient.
The funds will go towards supporting the charity's Hospice @ Home service. More than £23,000 has already been raised and to donate go to justgiving.com/fundraising/dreamitnowdoit.
Heather, whose voyage lasts 11 months, said: "Morale on board is good, everyone is still getting on well and into the swing of it nicely, though at times I've been feeling the emotion and enormity of the adventure.
"I've seen a wonderful pod of dolphins jumping and playing on our bow and we were bombarded by flying fish during a deck watch."
The Clipper Race left London on Sept 1 with the second race across the Atlantic Ocean departing Portimão, Portugal, two weeks later.