Tackling Tegg's Nose on a summer's evening is one thing, but navigating Nepal in November is a completely different prospect.
But that is the challenge facing Sarah Dale and Louise Delany who must combine preparations for a Himalayan trek with jobs at East Cheshire Hospice as well as running families.
Both volunteered for the once-in-a-lifetime adventure which involves two days working on a hospice project in Kathmandu followed by an arduous five-day trek along the Ghorepani Poon Hill trail.
There they will enjoy stunning views of the Annapurna mountain range staying in tea-houses and lodges. Temperatures will range from 25C to -5 at night.
Sarah and Louise are part of a nine-strong group from East Cheshire Hospice, each pledging to raise at least £3,500 for the charity which undertook a Grand Canyon trek last year.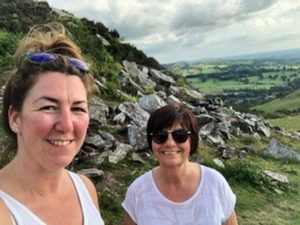 Sarah, who is Clinical Director at the Hospice, said: "I'm petrified and the more I think about it the worse it gets, but it'll be an amazing challenge.
"I don't really like flying, I'll miss my kids and husband and I'm not good with bugs or getting cold. The chance to see how palliative care works in a different country motivated me initially and I'd happily spend all the time at the hospice out there, but that's not the idea.
"I thought we'd be meandering through villages but each day there are tough walks with a 3,500 metre climb."
Sarah and Louise are walking through Macclesfield Forest, or climbing Tegg's Nose, four times a week as preparation.
Louise, the Hospice's Commercial Manager, said: " I don't think I've done any challenge before so we're both out of our comfort zone. We want to be fit enough so our experience is a good one and we don't suffer.
"Working full time five days a week, plus family commitments and the practice walks is time-consuming and at the same time we're trying to fundraise.
"Sarah is from the clinical side and I'm from admin and we're glad we're supporting each other. Our aim is to raise £7,500 which is how much it costs to run the Hospice for a day."
The pair are grateful for the support of the Broken Cross Club which is hosting a bingo afternoon on Sunday, Sept 15, and a race night on Friday, Oct 4.
* To sponsor them go to justgiving.com/fundraising/sarah-dale32 and justgiving.com/fundraising/louise-delany.