Referring someone to the Hospice
We understand why people are fearful of approaching their local Hospice, but this makes it difficult for us to get across how much we can help, and how much we would like to be able to help.
From the point of a terminal diagnosis onwards, East Cheshire Hospice has a wide range of treatments, advice, therapies and support available. As a patient or carer, you don't have to struggle on your own – and as a healthcare professional, you don't have to allow your patients and their families to go unsupported on what can be a life-changing journey.
Our help and resources are all available free of charge, but this is only possible because as a charity we receive more than 80% of our required funding from the communities we serve.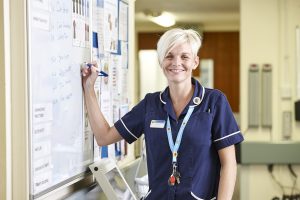 Here's how
For the Hospice to work out how best we can help, it's extremely useful for us to understand the patient's current condition, their circumstances and where they are being cared for at this time.
If you are using the Referral Form to introduce yourself to us, please be aware that the Hospice does need the consent of your GP or primary healthcare provider, eg – your Macmillan nurse, to be able to start your care with us (Download of the referral form available below). Understandably, we're asking for quite a lot of medical information at first to quickly understand your needs, so when you look at the form, you may decide to ask your GP/primary healthcare provider to complete it on your behalf.
If you would like to access the Community Dementia Companion Service, then you can take a look at the Referral Criteria and Process download below.
To refer yourself/your patient, please fill in our Referral Form with as much information as you can and send it back to us via one of the following;
We will contact you directly to discuss the next steps.
The Referral Form covers all the services of the Hospice, whether based in the Inpatient Unit or the Sunflower Wellbeing Centre outpatient and therapy facility. If you have any queries at all about referring yourself or your patient, please contact our Patient Services Lead on 01625 610364.
We're here to make your/your patient's introduction to the Hospice as smooth and stress-free as possible, and we look forward to finding out how we can help.