One of the country's top medical experts Professor Alistair Burns CBE has been appointed a Patron of East Cheshire Hospice. Prof Burns is the National Clinical Director for Dementia and Older People's Mental Health at NHS England and NHS Improvement.
Widely regarded as the country's senior expert on dementia, Prof Burns, formerly of Macclesfield,  hopes his extensive clinical experience will benefit the Hospice. He is Professor of Old Age Psychiatry at The University of Manchester and an Honorary Consultant Old Age Psychiatrist in the Greater Manchester Mental Health NHS Foundation Trust. He was awarded the CBE in 2015 for contributions to health and social care, in particular dementia, an illness which affects more than 850,000 people in the UK and could reach one million by 2025.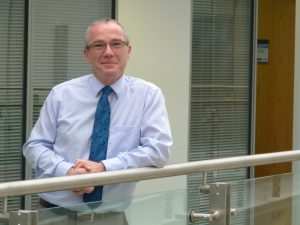 Professor Alistair Burns CBE who is the new Patron of East Cheshire Hospice.
The Hospice, which has already developed some specialised dementia services but wants to do more, is thrilled to have such an eminent clinician on board.
Prof Burns said: "It's a privilege to be involved with such a landmark organisation as East Cheshire Hospice which is taking a fantastic initiative with its dementia care. "I'll be doing all I can to promote East Cheshire Hospice's work and that of the hospice movement in general.
"Medical practice is partly about sharing experiences, and examples of good practice, nationally and internationally and I'll make sure people are aware of the work in the Hospice and encourage others to do the same. "I'm also sure there are ideas from the recent information and research into dementia which I can bring into discussions with the Hospice."
Prof Burns has published more than 350 papers and 25 books about his research into the mental health problems of older people, in particular dementia and Alzheimer's, its most common cause. Cheshire has been home for Prof Burns for the last 30 years. "It's got the best walks, the best pubs and the best restaurants – it's a great place to live," said the Glasgow-born father-of-two whose work drew him to Manchester. He was made an honorary fellow of the Royal College of Psychiatrists in 2016 and for 20 years was editor of the International Journal of Geriatric Psychiatry.
Hospice Chief Executive Karyn Johnston said: "We are honoured that Professor Burns has agreed to become a Hospice patron. He is hugely respected within the clinical profession for his outstanding contributions towards dementia and the well-being of older people."
Professor Alistair Burns CBE joins BBC broadcaster Nick Robinson and actor Charlie Lawson as patrons of East Cheshire Hospice. Prof Burns offers a fascinating insight into dementia's effects on society.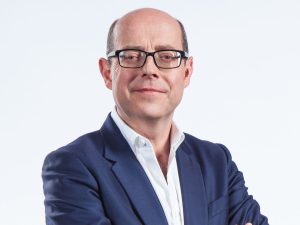 Nick Robinson, one of the patrons at East Cheshire Hospice
He said: "There's no doubt dementia is more recognised than it was 20 years ago when symptoms like memory loss were put down to normal ageing. "Dementia is the most feared illness for over 50s, probably because of the uncertainty around the condition and people losing the ability to care for themselves.
"There's still a stigma about dementia that cancer has overcome very dramatically through improved treatments and public awareness. "People were reluctant to come forward for assessment and treatment because of a perception that nothing more could be done.
"However, over the last 10 or 20 years there's been a huge interest in dementia and the positive things being articulated that you can live well with dementia.
"The parallels between cancer and dementia are quite stark in a way. As a medical student, part of my training was that you shouldn't say the 'C' word because it'd frighten people talking about a tumour or a growth.
"There was a fear of the 'C' word and in some ways dementia is where cancer was a generation ago.
"Dementia is called by some a terminal illness because it can shorten life significantly. Like cancer it affects people in different ways and hospices' end-of-life palliative approach to cancer is also applicable to dementia.
"The hospice movement has articulated that person-centred personal approach for cancer for many years and now it's something we're trying to emulate in dementia care.
"We know that caring for someone with dementia is just about the most stressful thing you can do. It's not just the person themselves, it's the effect that it has on the family as well.
"The numbers for those affected by dementia can easily be multiplied by two, probably by three and possibly by four when you consider the effect on families and carers.
"Connection is vital for people with dementia. It's an illness that cuts you off from your families, cuts you off from your community and, at the end stages, will cut you off from yourself because of difficulties with memory."
Mental health among older people is part of Prof Burns' remit. He said: "The message we try to put forward for depression and anxiety in older people is that it's a treatable condition similar to dementia.
"The idea that 'I'm old and, of course, I'll be depressed' isn't true. Treatments such as medication, counselling and talking therapies are important and effective in dealing with common forms of mental health such as anxiety and depression in older people.
"It's not a case of the stiff upper lip – people should recognise there is support and treatment available."