New jobs caring for patients nearing the end of life are being created in Knutsford.
A total of 15 health care assistant posts are being advertised by East Cheshire Hospice as part of its Hospice @Home expansion in the town.
The roles are funded by a major donation from husband-and-wife Michael and Jennifer Oliver, whose global business Oliver Valves has its headquarters in Knutsford.
The Hospice has launched a recruitment drive and will offer full training to successful candidates who join its Hospice @Home team. Previous experience in the health care sector is not essential.
The team will be based at Knutsford and District Community Hospital on Bexton Road working alongside GPs and NHS district nurses.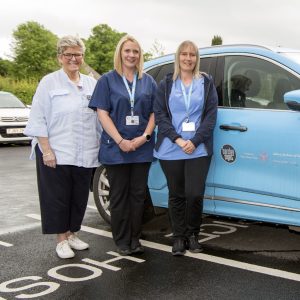 From left, East Cheshire Hospice @Home team members Gill Tomlinson, Tess Cleaver and Joanne Helm.
The Hospice already runs the Hospice @Home service in Knutsford catering for patients primarily in the last three months of life. This new service for patients with a Knutsford GP will extend that period of care and support to 12 months.
Hospice Chief Executive Karyn Johnston said: "This is a much-needed opportunity to help develop palliative care services in Knutsford. Staff will go out into homes to provide practical and compassionate care and support to patients and their families.
"By liaising closely with the NHS, our aim is to help patients to avoid hitting a crisis and having to go to hospital unnecessarily during their final year of life. Our research with the NHS and other local care providers also showed that patients from Knutsford, in particular, are often medically fit to leave hospital but can't because there are no care at home services available. We can change that.
"This expansion will see more people getting the right care when and where they need it and, if the model is successful, it could be rolled out elsewhere in the areas we serve in East Cheshire. We're targeting Knutsford as we know the town has unique care availability challenges."
Anyone interested should apply via www.eastcheshirehospice.org.uk/vacancies. Hours are flexible over a seven-day week and pay up to £17.42/hr including weekend bonuses for experienced Health Care Assistants.
Karyn said: "We're looking for people with some experience of care ideally, though qualifications aren't necessary. These roles will also appeal to people seeking rewarding work that really makes a difference in the community. As part of our East Cheshire Hospice team, they'll work in close collaboration with the NHS and other health care agencies.
"We, and the people of Knutsford, are indebted to Dr & Mrs Oliver who share our desire to improve care for patients with life-limiting illnesses in an area where their employees are based. We thank them for their extremely generous support."