Keen walker Jen Johnson wore her late mum's wedding ring for inspiration during a coast-to-coast hike. The treasured possession is a poignant reminder of Madeline who organised walks for fellow day care patients in the Sunflower Centre at East Cheshire Hospice.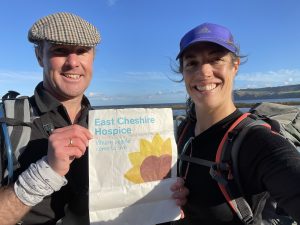 There at last!  Jen Johnson and Andrew Gregory at the end of their walk with a Hospice bag they took with them.  
Madeline, from Tytherington, died in the hospice in 2018, six years after she was diagnosed with breast cancer. She was 68 and a retired medical secretary at Macclesfield and District General Hospital. Madeline's courage motivated Jen and fiancé Andrew Gregory during their 12-day hike from St Bees Head to Robin Hood's Bay.
The pair raised £2,100 for the Hospice from their 200-mile walk. Jen also added a £200 long-service award from the Environment Agency where she works.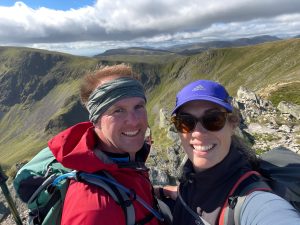 Jen Johnson and Andrew Gregory at Kidsty Pike, the highest point of their coast-to-coast walk.
Jen said: "The walk was a tribute to my mum because she just loved walking. She co-ordinated hikes for the group at the Sunflower Centre and I know she'd have loved the route we took.
"I gave mum's ring a little rub if we had a tough day walking up hills and it was nice to do something in her memory.
"The walk was exhilarating and was on our challenges-to-do list. We led a very simple and free life for 12 days.
"All I had to do was get up, eat a good breakfast, make sure I'd got everything in my bag and walk.
"The views were phenomenal, particularly in the Lake District and at the start where we could see the Isle of Man and Scotland.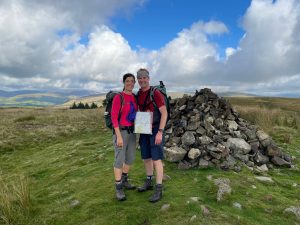 Jen Johnson and Andrew Gregory in the Lake District.
"Then we headed inland for the hills. The hikes were beautiful and every single day you couldn't wipe the smile off my face.
"We loved the challenge and never was it not worth it. All the stress of work and everyday life just fell away as we went back to basics."
Dad Richard sings with the Hospice choir and the family will always be grateful to the charity for the care given to Madeline.
Jen said: "The staff were brilliant and we wanted to give something back.  The Hospice is such a special place and while mum was ill there was a strong support network for her and dad. We felt like a family in a home, everyone was so good."
Madeline's granddaughter Matilda Johnson, who is Jen's niece,  also did a sponsored swim in aid of the Hospice in 2018.
* To sponsor Jen and Andrew visit justgiving.com/fundraising/jen-and-andy-go-walking