Healthcare Professionals
The UK population generally finds it difficult to talk about death and dying – including the healthcare community. What we sometimes struggle to get across to our professional colleagues is that the Hospice has plenty to offer that can improve the quality of life for your patients and their families from the point of a terminal diagnosis onwards.
Patients are often referred to us too late, fast approaching end of life, highly anxious, usually uncomfortable and clearly requiring care beyond the remit of curative medicine. The Hospice is well-equipped to help at this point – but you and your patients may be able to take advantage of our services much earlier than you think. For example, our self-contained, purpose-built Sunflower Wellbeing Centre has:
Living Well programmes to help patients actively manage their condition whilst living at home
A regular Breathlessness Clinic and Lymphoedema Clinic available to all affected by these symptoms
Physiotherapists and occupational therapists able to treat patients and carers at home, in our gym, in our treatment rooms and in exercise classes
Proven complementary therapies, pre- and post-bereavement support, social support to help with care planning and 'the paperwork', art psychotherapy, spiritual support and more
A dementia carers well-being support programme to offer carers the opportunity to think about and plan their futures.
You're welcome to visit us
We understand the difficulties around a terminal diagnosis very well and we're here to help. Have you visited us?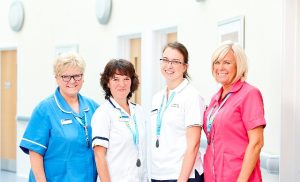 We run regular informal tours of the Sunflower Wellbeing Centre and the Inpatient Unit and you are very welcome to come and see all our facilities and meet our staff and volunteers. We are nestled in a quiet residential area of Macclesfield in a light, spacious and airy building with a surprisingly uplifting atmosphere that visitors often comment on.
As a charity, all our services are provided free of charge to patients and carers – and we can work closely with you throughout to improve your patients' quality of life. Please don't deny them the opportunity to use our comprehensive services from the point of diagnosis onwards. We really can make a difference to all of you.