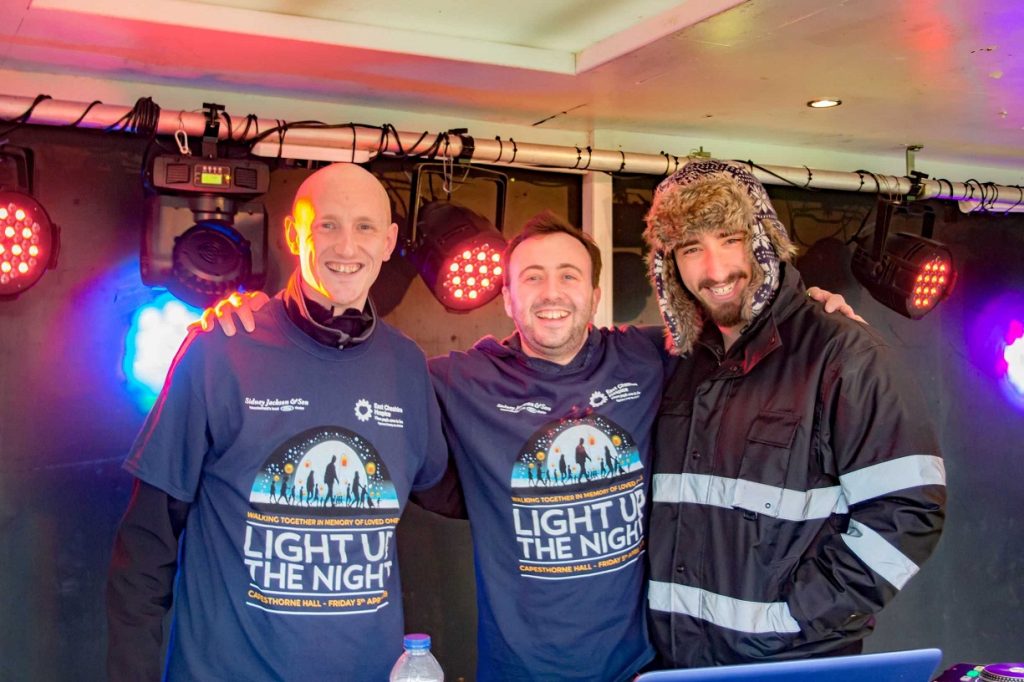 From left, Dean Holmes with helpers Sean Worth and Sam Staddard at last year's Light Up The Night.
Host Dean Holmes enjoys appearing on stage as front man at fundraising events for East Cheshire Hospice.
His next gig for the charity is the Light Up The Night in April when he will be warming up the crowd before a memory walk at Adlington Hall.
The Macclesfield DJ has been out on the road for almost 14 years, hosting birthday parties, weddings and other celebrations.
Dean said: "It was a great honour to be asked early last year to help the Hospice, especially as I've had family and friends who've been treated there.
"It's a cause close to my heart  and there's always a lovely family atmosphere at their events. I feel as though I'm giving something back."
Dean runs Silk Events and has a mobile bar available for events, many of which are in aid of charities while friend Sean Worth helps him at Hospice events.
It means that Dean works every Friday and Saturday night with Broken Cross Club one of his regular haunts.
Dean said: "It means a lot of unsocial hours but that's the nature of my job and my fiancee Bethan and our two sons Archie (6) and Max(3) are very understanding."
His company won the Silk FM Local Hero Award for Business of the Year in 2019 for their charitable work.