Local car dealership, RRG Toyota, has been confirmed as sponsors of this summer's new family fun event for East Cheshire Hospice – Splash Out!
Rain or shine, the July event is sure to guarantee huge amounts of fun as entrants tackle five fun water challenges over a five-kilometre course. Obstacles include a giant slippery slide and a wobbly floating bridge.
RRG General Manager, Nigel Clarke, says the company is delighted to be involved with the event and he expects to see a staff team take part in the event which takes place on Saturday, July 6 at Alderley Park.
"The Hospice is a great local cause and we are very pleased to be associated with this brand new event," he said.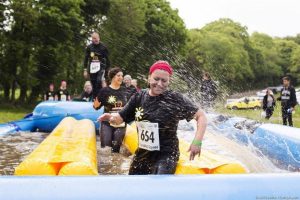 Splash Out! replaces Bubble Rush in the Hospice's fundraising calendar and the Hospice events team are sure it'll will guarantee a great family day out.
Jo Boyd, Events Manager at East Cheshire Hospice, said: " When water and children are involved, its always going to be fun and Splash Out! promises plenty of that. "
There's just over a week left to buy Early Bird tickets for the event, which is being held in partnership with Francis House Children's Hospice, one of Manchester's favourite children's charities. Early Bird tickets are priced at £20 for adults and £10 for children.
For more information and to enter go to eastcheshirehospice.org.uk/splashout19