To purchase Christmas cards please visit www.eastcheshirehospice.org.uk/support/christmas-cards.
East Cheshire Hospice is hoping for another merry Christmas selling festive cards.
The charity raises around £20,000 each year from supporters buying packs of 10 cards for £4 and pocket diaries for £2.
They are available at Hospice shops in Thornton Square and Chestergate in Macclesfield, plus its Handforth and Poynton outlets.
Libraries at Macclesfield and Wilmslow and Knutsford Cinema are also selling them until Saturday Dec 9.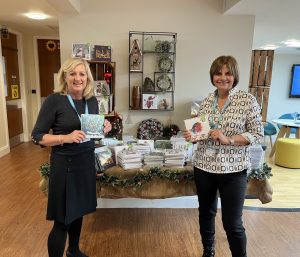 Hospice volunteer Caroline Taylor (left) with commercial manager Louise Delany.
Cards are also available from the Hospice reception, the Hospice website and via leaflets sent to supporters. Postal sales incur an admin charge.
Commercial Manager Louise Delany said: "Our Christmas cards are always big sellers and a great way to support the Hospice.
"They're excellent quality with nice designs and we'd urge customers to hurry up and buy them as certain designs sell out quickly."
The Hospice is enjoying another healthy retail year with high demand for items donated by supporters.
Louise said: "The support from customers and donors is amazing. Long may that continue because every pound generated goes directly to the care of patients, their families and carers.
"Staff put in a tremendous amount of hard work, going above and beyond. Social media posts help and our shops are full of a variety of goods, from a £1 rail up to designer wear.
"Furniture is always a good seller and we'd like more if possible. We offer free collection and also carry out house clearances."
* For further details call 07917 942273 or email furniture@echospice.org.uk.