First it was the rainbows – now sunflowers are appearing in front windows to support East Cheshire Hospice.
Eight-year-old Daisy Wilkinson drew a sunflower – the charity's well known symbol – for her grandma Sandra Heapy, from Macclesfield.
Daisy came up with the idea when mum Amy saw on social media that the Hospice wants supporters to create sunflower images for Hospice nursing staff coping with Covid-19.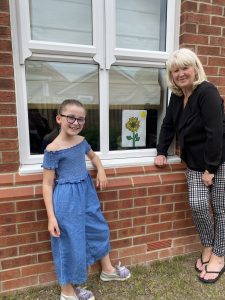 Daisy Wilkinson with her grandma Sandra Heapy and her sunflower picture.
The Hospice is close to the hearts of Amy and husband James after their late close friend Liam Ward was treated there. Liam (34) died in January 2018 from sarcoma, a rare cancer.
Amy said: "Liam was an inpatient for quite some time and the care he received was unbelievable. His wife Michaela and the rest of the family were so grateful for what the Hospice did for him."
Michaela's mum Joan Edwards has raised £400 this year from selling sunflowers. She grows them each year in her greenhouse in memory of her son-in-law.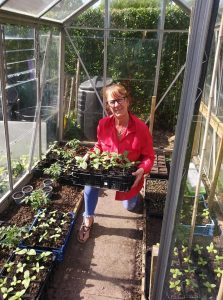 Joan Edwards with her sunflowers.
Daisy's great grandfather is Tommy Docherty, the former Manchester United manager who last month celebrated his 92nd birthday.
Amy Chatwood, Marketing Manager at the Hospice, said: "Rainbows have been extremely popular showing support for care workers and we thought it'd be nice if homes around Macclesfield also had sunflowers as a sign of support for our hard-working nursing staff at this difficult time."