Walker Lorna Barratt was left with wet boots and blisters and a host of happy memories from her Spanish pilgrimage.
She was part of an 18-strong party from East Cheshire Hospice which raised more than £70,000 from a five-day trek along the famous Camino Trail.
Every step was made in heavy rain with flooding near the finish in Santiago de Compostela, but it did not deter the plucky fundraisers.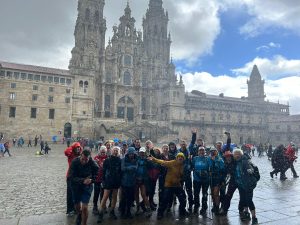 Lorna, from Macclesfield, has close links with the Hospice, having spent more than four years there as a palliative care social worker.
After retiring last year, she now volunteers at the monthly MND Wellbeing Days.
Lorna said: "I loved the social work role and only stopped because my own mum Elizabeth was poorly and needed end-of-life care herself. I worked with the multi-disciplinary team identifying families who needed support."
She volunteered for the trip after seeing an advert in the Hospice reception.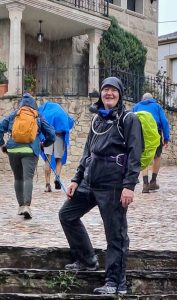 * Lorna Barrett on the Camino Trail.
She said: "Everyone was walking in memory of someone the Hospice had cared for and our group formed a supportive and close bond.
"It was very wet with torrential rain on the last day and the flooding was all over the news.
"We all had to dig deep walking an average of 15 miles a day, but it was a special trip and quite spiritual for many of us.
"We picked up donations along the way, including airport check-in staff and the lady exchanging currency. The outpouring of support for the Hospice is incredible and so heartening."
Lorna's walk was in memory of fireman Barry Axon, a close friend who was cared for in the Hospice.
She said: "Barry was well cared for, as were his family. The Hospice put its arms around the family as it does for all families in their care.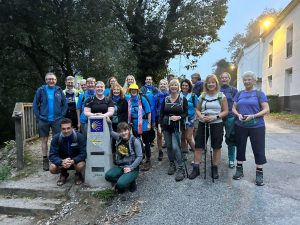 Walkers on their trek through northern Spain.
"Barry was a big walker and this was something he'd have done. He also had great faith, a pilgrimage in memory of Barry was a privilege.
"The MND group which meets on the fourth Friday of the month were also in my thoughts and indeed many contributed to my fundraising. Despite the sadness of a diagnosis of MND, there's a lot of joy within that day.
"It's like a one-stop shop of support and information with outside speakers offering advice. Patients and carers also get a lot of support from each other."
* To donate to the Camino fund visit www.justgiving.com/campaign/ech-camino-de-santiago