"I started playing the accordion for charity in 1991, mainly in Macclesfield Hospital, and the Grosvenor Shopping Centre. I made many friends in the Macclesfield area, who enjoyed my music, and as a member of the Stockport Accordion Orchestra, l thought it would be wonderful for the orchestra to do a public performance to fundraise for charity.
In 1999, l suggested the idea of performing a concert in Macclesfield for the East Cheshire Hospice, with our conductor Brian Jenkins.
He was very supportive of the idea, and we played our first concert in October 1999, at Fallibroome School, which proved to be a wonderful evening's entertainment, with an audience in excess of 170 people.
Brian suffered ill health for the next two years including a major operation, and upon returning to good health, he was very enthusiastic to conduct another concert to support the hospice, which we did in December 2002 at Broken Cross Club, Macclesfield.
Since then we have done a hospice concert every year, and this year's concert, 'which we still hope to do on Fri 4th Dec.', will be the 20th event.
For the orchestra, these concerts have become our highlight of the year, like a family reunion, and over the years we have built a wonderful comradely with the audience, and Broken Cross Club, who look forward to it with great enthusiasm, in supporting the Hospice.
Brian conducted the orchestra until 2011, when sadly ill health again meant he was unable to carry on, he was a wonderful person and held in high esteem by everyone who had the pleasure to meet him.
After being in a nursing home, Brian passed away from Covid this month. RIP."
– John Jones MBE.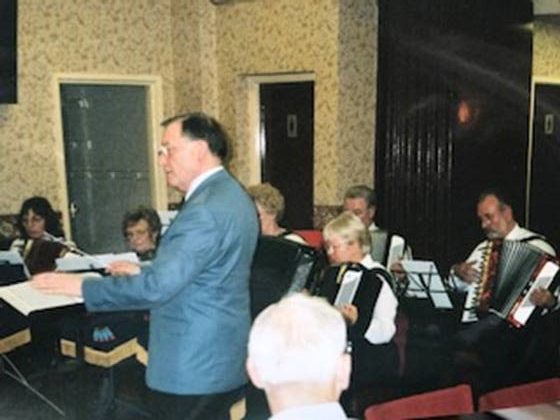 Brian Jenkins, conductor of Stockport Accordion Orchestra