Looking smart is vital for Coun Janet Jackson, especially with a full diary of engagements as Mayor of Macclesfield.
That is where the East Cheshire Hospice charity shop at Thornton Square helps out, supplying most of Janet's outfits.
A navy and grey dress and matching jacket bought from there for only £25 was worn when she received her MBE from Prince William, Duke of Cambridge, in January.
The hat for that proud day at Buckingham Palace was another bargain at £10. The Mayor is a regular customer at the Hospice shop and a new winter coat is next on her list.
Coun Jackson said: "I'm always getting compliments on what I wear and delight in telling people that my clothes are from the charity shop.
"It's a win-win situation as far as I'm concerned. You can find fantastic clothes at a really good price and are supporting a wonderful charity.
"East Cheshire Hospice need a tremendous amount of money every day to keep their service going, so anything anyone can do by going along to the shop and buying an item or two is all to the good.
"I attend an average of five functions a week and try to have a different outfit for almost every occasion.
"With the attention on climate change, I'm also a sustainable Mayor and helping the environment.
I'm helping the charities and my pocket too."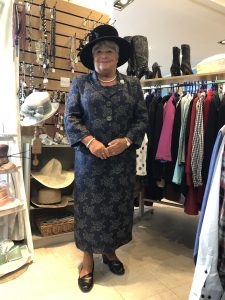 Coun Jackson, Labour member for Macclesfield Central, recalls fondly her royal honour rewarding her long-standing service to the community.
The grandmother-of-three has been involved in politics for almost 30 years and has sat on numerous council and charity committees.
She is chair of the Friends of Macclesfield Silk Heritage and generations of her family have worked in the town's silk industry.
"The Palace visit with my family was a memorable day. I couldn't believe it when I found out I'd got the MBE because it doesn't happen to people like me."
The Thornton Square shop sells clothing for all ages, handbags, purses, wallets, travel bags, rucksacks, jewellery and accessories, furniture, electrical goods, kitchenware, ornaments, pictures and frames, toys, books and games.
Manager Nicolla Burgess said: "We're delighted the Mayor is one of our loyal customers. We sell good quality items and our shop does extremely well in terms of donations and purchases. We're looking for good quality furniture and do need help on the vans with collections."