Volunteers and staff are rallying round to keep East Cheshire Hospice going despite the coronavirus crisis.
The vast majority of the our volunteers have been stood down because they are aged over 70 or self isolating.
Those remaining –  fewer than a fifth of the 650-strong volunteer workforce – are helping on the inpatient wards and front desk reception.
Volunteer bereavement counsellors are carrying out appointments over the telephone.
Other roles, such as complementary therapists and drivers who take outpatients to the Sunflower Centre which is closed, are not allowed to be filled at present.
Volunteer Co-ordinator Helena Smith said: "I want to stress that these volunteers have stood down reluctantly, not because they want to. People know their role matters and that they make a difference.
"I've had phone calls from people fed up that they can't help out. For those over 70 it was a cut and dried decision but those under 70 didn't find it easy to step away.
"But people need to put themselves first.  Volunteers don't often do this and put the organisation and the patients before themselves.
"They feel a real sense of responsibility, so it's really hard for them. But just because they're not volunteering here they're still supporting people in the community.
"It might not be in a formal way on reception with a badge, but it doesn't mean to say they're not supporting the community. So many people are carrying out caring roles that make a difference.
"We'd really struggle without the volunteers who're still here and need them now more than ever. I'd also like to say a big thank you to them."
One such volunteer Laurence Duerden helps on reception and in normal circumstances would support pop-up shops and serve food.  His wife Angela died in the Hospice from cancer, age 43, in 2011.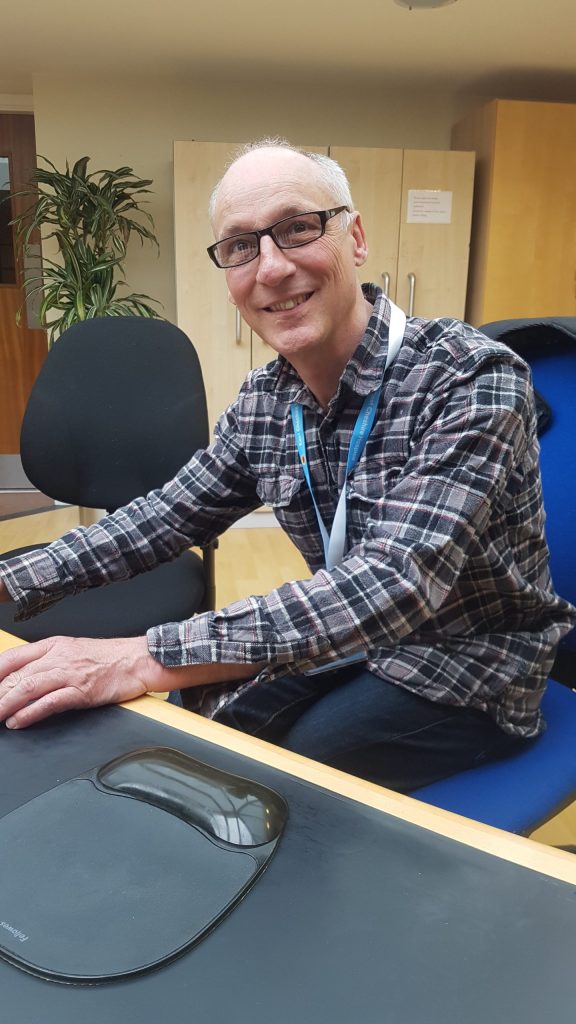 Laurence Duerden helping on reception at East Cheshire Hospice.01
Laurence (58), who is retired from Astra Zeneca, said: "I'll happily fill any gaps on volunteer rotas. It's important we keep the professionals free to carry on what they're trained to do.
"My son Jack (18) and daughter Emma  (16) both left Tytherington School the day schools were forced to shut down. Their last day at school was a really emotional time and they had to say quick goodbyes to their school friends."