Greeting visitors with a warm smile comes naturally to Anne Brander and Julie Mills as volunteers on reception at East Cheshire Hospice.
But stepping over hot coals for the same good cause was well out of their comfort zone.
The friends braved a Fire Walk along with other fundraisers at Macclesfield Rugby Club, with some also tackling an Ice Walk over broken glass.
The pair settled just for the challenge of the burning embers and for Anne the Hospice has a special place in her heart.
Late husband Angus was a patient there in 1996. He was just 42 when he died from lung cancer.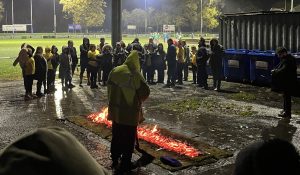 Ready to face the fire … fundraisers get a warm reception.
Anne said: "The Fire Walk was something I wanted to do for the Hospice. Angus loved it there and it was the right place for him in his final days.
"They looked after the whole family, including our daughters Clare and Alison who were 16 and 10 at the time.
"He was peaceful and comfortable there and all these years later it's nice to see how the Hospice has grown and how things have moved on and developed.
"Working on reception is varied meeting all sorts of people. You're the first point of contact and it's important you have a welcoming smiley face.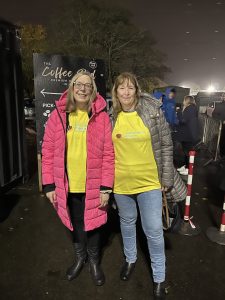 Volunteers Anne Brander (left) and Julie Mills at the Fire Walk. 
"I felt a great sense of achievement doing the Fire Walk. There was a great atmosphere with everyone cheering each other on and I was proud to be part of it.
"I was slightly nervous and excited but wasn't scared. It was something I really wanted to do."
Anne and Julie met through education circles. Anne worked at Wilmslow High School and both attended admissions appeals with Julie employed by Cheshire East Council.
Julie said: "We go back a while and got together and said let's have a go at the Fire Walk.
"We supported each other and the Hospice and also to prove to ourselves that we can do silly things at our age.
"We're aware how much it costs to keep the Hospice going and it's much needed by the community.
"Volunteering is rewarding. I like meeting people and wanted to do something for the community when I retired.
"I was apprehensive but common sense told me it's mind over matter. Someone won't ask me to do something when I'm going to get injured. I'm not saying I won't do the Ice Walk next time."