East Cheshire Hospice is appealing for volunteer van drivers to help move furniture.
The role involves collecting furniture from donors' homes and delivering items to the charity's shops in Macclesfield, Poynton and Handforth.
The stock then needs to be taken out to customers' homes.
Commercial manager Louise Delany said: "We'd love people to join our retail van crew and shifts are usually from 9 am until early afternoon.
"Volunteers can commit to once a week, once a fortnight, or on an ad hoc basis, depending on availability.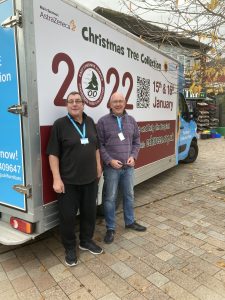 Volunteer van drivers John Mellor (left) and Tim Hine.
"Our team love what they do. It's friendly and rewarding and really helps raise vital funds for our Hospice.
"We can raise about £10,000 a month from furniture donations and that makes a big difference to us.  Helpers are also raising the profile of the Hospice.
"Every time our van goes out in the neighbourhood, it makes the Hospice that bit more visible, and our volunteers are representing us.
"No experience is required, but you must be fit enough to move furniture around with a colleague. You don't necessarily have to drive – we also need people to help carry items."
* To apply, contact mslack@echospice.org.uk or call 01625 408992.
Meanwhile, the Hospice raised around £30,000 from a rug sale. Some 1,400 surplus rugs were donated to the Hospice. Around 500 are left and are on sale at the charity shops.