Cyclists were made to sweat during a Charity Spinathon which raised almost £1,300 for the Hospice.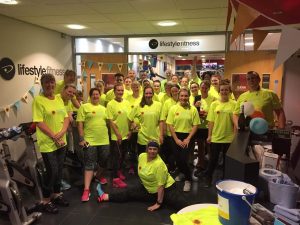 Some 30 members of Lifestyle Fitness, based at Macclesfield College, took part in the three-hour marathon.
Over half the donation came from sponsorship raised by fitness enthusiasts through JustGiving pages.
Lifestyle Fitness has 1,000 members in Macclesfield where classes run from 6.30 am to 9.30 pm.
The company is part of the Hospice's popular 500 Club in which members raise at least £500 each year over a three-year period.
Club Manager Jake McKie said: "East Cheshire Hospice was the charity chosen by our members to support last year. It's a wonderful cause which we're delighted to help and want to thank our members for their generous fundraising."
The next challenge is to raise £1,000 from National Fitness Day on Wed, Sept 25, when the target is to get 100 members to join a one-hour circuit class.
If you would like to be part of our 500 Club, get in touch today kbowmar@echospice.org.uk or click here to find out more!