Fun and fundraising brought lots of smiles for East Cheshire Hospice supporters over the last 12 months.
Another packed colourful calendar of events meant the charity benefitted in many different ways.
Music, art, sport, fashion, travel, leisure and business were all thrown into the mix by generous donors.
Families were out in force at Light Up The Night at Capesthorne Hall, a poignant occasion which saw many walkers remember loved ones.
Community events included Splash Out! when young and old faced a series of water challenges, while dogs and owners tackled a testing obstacle course at Tough Woofer.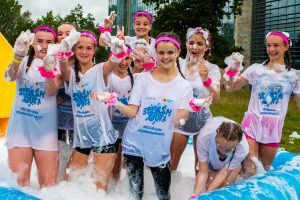 Taking a dip at Splash Out.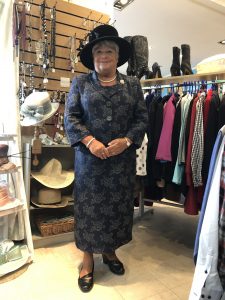 Mayor Janet Jackson in her charity shop outfit which she wore at Buckingham Palace.
Mayor of Macclesfield Coun Janet Jackson is a regular customer at the Hospice charity shop at Thornton Square where she picked up a bargain for a Royal appointment.
When she received the MBE from Prince William, Duke of Cambridge, she wore a dress and matching jacket she had bought from there for £25. Her hat cost £10.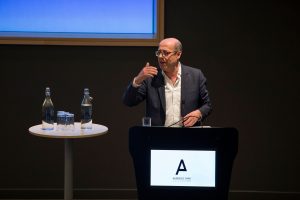 Nick Robinson gives his speech at the Hospice's Business Briefing
BBC journalist Nick Robinson gave a keynote speech at the Hospice's annual Business Briefing at Alderley Park. Nick's late father Robbie was cared for by the Hospice.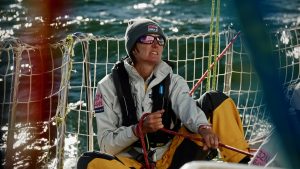 Round-the-world sailor Heather Broadbent.
Hospice supporter Heather Broadbent starts 2020 sailing off the coast of Australia.
She is aboard GoToBermuda competing in the Clipper 2019-20 Round the World Yacht Race.
Heather is going from Freemantle to the Whitsunday Islands on the latest leg of her 11-month voyage.
She is raising £40,000 for the Hospice where her late husband Adam  was a patient.  To donate go to dreamitnowdoit.com
Heather said: "I'm loving every minute and wouldn't change it for the world. At sea I'm making memories and friends for life."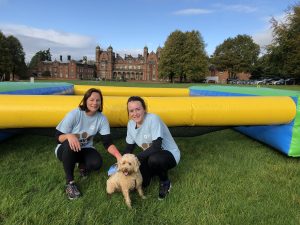 Mother and daughter Kim and Nina Bennett with cockapoo Elsie at Tough Woofer.