Margaret Lillis saw her prayers answered when she raised £4,070 for East Cheshire Hospice where she is chaplain.
Her frustration at having to self-isolate during lockdown because she is 72 turned into a mission to help the Hospice.
Margaret's sponsored walk over 18 consecutive days, using her age as a theme, received huge support as she smashed her £720 target.
Margaret, from Macclesfield, said: "I was gutted to be out of the Hospice at the end of March because of government guidelines and 72 seemed like a punishment.
"I wanted to do something positive so decided to walk 72,000 steps, averaging 4,000 steps a day.
"I walked round the places I know in Macclesfield, but this time there was a real point to my walking and I felt better because I was actually focussed on doing something for the Hospice.
"The good reason behind doing it really urged me on and I was staggered when the money poured in. Suddenly, 72 seemed like a gift rather than a curse!
"I want to publicly thank everyone, near and far, for responding in such an open-hearted way. This has been a hard time for people and money has been short and yet the generosity has been overwhelming."
Margaret is now back at the Hospice offering the chaplaincy services she has provided for the last six years, the first two in a voluntary capacity.
She said: "It was hard when I was first told I couldn't visit because I'm in there most days.
"I was concerned about not being able to see the patients and their families but the staff as well because it was a difficult time for them.
"I did write to them every day but obviously I wasn't able to offer the same kind of support from a distance.
"Chaplaincy is about offering pastoral, spiritual and emotional support to people at the most difficult time of their lives…not only patients but their families as well.
"It was hard not being able to offer that support and be a listening ear for someone  when they were suffering the loss of their loved ones.
"Caring for our patients as well as their families is something we all take extremely seriously at East Cheshire Hospice and I'm grateful to be back there now."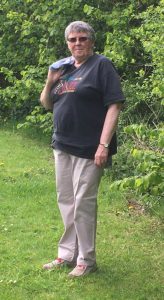 Chaplain Margaret Lillis who raised £4,070 for East Cheshire Hospice.