Family and friends have paid moving tributes to the courage and character of Ollie Wheelton who died of cancer in June. The popular sportsman, from Macclesfield, died in East Cheshire Hospice, aged just 21.
Older sister Laura joined a 100 kilometre bike ride to honour his memory on Sunday (Sept 5), while Ollie's pals tackled a Tough Mudder challenge the day before. They started fundraising to ensure Ollie's legacy lives on and to thank the Hospice for caring for him.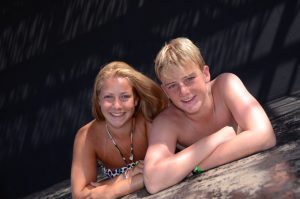 Ollie Wheelton with sister Laura.
Laura said: "Ollie was such an inspiration and was so brave. He was my cheeky little brother and it's hard to believe he's gone.
"He was very strong throughout his illness. He never complained and always had a positive attitude. He gave us advice, saying that we had our health when he didn't and we should take advantage of that good health and enjoy life."
Laura was joined by partner Matt Ward, uncle John Slack and cousins Helena and Tim Slack on the bike ride which followed the route to The Christie which Ollie undertook for treatment during his two-year illness.
Ollie, a big Manchester United fan, bought a club season ticket with his first bonus from work at Barclays Bank at Radbroke Hall.
Close friend Hugh Milner undertook a Tough Mudder at Cholmondeley Castle with brothers Zach and Aaron Widdowson, Jack Green, Elliott Broadhurst and Brad Draper, all Barclays colleagues. Brad's father Sean Draper also took part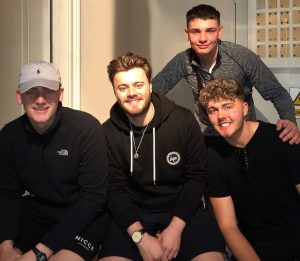 From left, Ollie, Hugh Milner and Brad Draper with Zach Widdowson (standing).
Hugh said: "Ollie was a lovely generous guy and the most welcoming of people. I met him when we were all part of the same Barclays apprenticeship intake and our friendship grew.
"We became best friends and we all want his legacy to continue.  He was such a big character in the Macclesfield community and is greatly missed.
Ollie was an all-rounder at Langley Cricket Club and starred as a junior at Macclesfield Rugby Union Club and both clubs have supported fundraising which stands at more than £8,000.
Hugh said: "He loved playing sport and we'd like to thank everyone for their sponsorship.
"He was a fit young man and the cancer came out of nowhere. I remember going into Manchester with him one night in 2019 and he thought he'd got a bladder infection which turned out to be the cancer which spread."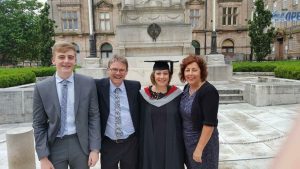 Ollie with dad Andrew, mum Jill and sister Laura at her graduation at the University of Central Lancashire in 2016
The family of Ollie Wheelton have thanked East Cheshire Hospice for caring for him in his final days. Much of his two years undergoing hospital treatment for cancer were spent under strict Covid restrictions. But they were finally able to spend precious time together as a family once Ollie went into the Hospice.
Sister Laura said: "The Hospice were just amazing and let all of stay together for the three days Ollie was there.
"They were really accommodating and just made everything really gentle, taking the pressure of mum, dad and me.
"We all got to stay with him and didn't have to worry about anything else. We really appreciated that special time together at the end.
"That's why we wanted to raise money. I hadn't realised the charity relies so heavily on donations and needs £7,500 a day to keep going."
Laura will always cherish the time she spent with her brother and their parents Andrew and Jill. She said: "We always went away together as a family on holiday and were all really close.
"Ollie was full of life and would do anything for anyone. He was a hard worker and every Saturday night you'd find him out in Macclesfield or Manchester."
* To donate visit justgiving.com/fundraising/ollie-wheelton or justgiving.com/fundraising/l-wheelton