Here are a few stories from our volunteers
John Bolsover, Ward Volunteer
"I needed something to fill my time after having retired, had a heart attack and having finished all the jobs in the house. So, eighteen months ago, I started volunteering and I get an awful lot from it "
After a long career with the police and in business, John retired and moved to Macclesfield. He openly admits that he needed something to fill his days. Thus, he decided to come to the Hospice to offer his services.
John volunteers regularly on the ward. During his shifts he helps with mealtimes, making beds, the tea trolley round, filling up supplies, sorting laundry generally helping with whatever staff need help with, and to offer patients a listening ear.
He says "I do like to give, give of myself, talking to people, making people happier. I'm a bit of a jester." Then, he adds more seriously, that his role as a ward volunteer is to take the weight off the nursing staff. John also admits, that at times, it does affect him, when he has built a relationship with a patient who then dies.
When asked why he volunteers with us, John, without hesitation, says: "The people, nurses, everybody is fantastic; they all have a wonderful outlook on life".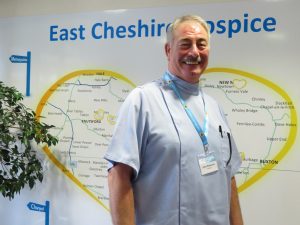 John Wilkinson, Thornton Shop volunteer
Ex- Police officer, John, gets a lot of satisfaction from helping out at our shop in Thornton Square, where he's been for four years.
"It's busy – really busy, we don't stop – but that's the way I like it", he says.
John has raised funds for charities for most of his adult life and following a period of living in Goa, India where he helped with children's charities, he eventually decided to get involved with the Hospice and offered to support us. Helping in the shop was a great way of doing just that.  John lives locally, and helps out with his grandchildren most days, so needed something to fit around that.
"I started volunteering with the Hospice to give me something to occupy my time, but it's become more than that. I started in the back, sorting donations – the quality of the goods we get is incredible, people are so generous, and now I tend to work on the till which is where I get to really meet people. We have lots of regulars, we're part of the community there and we get to know our customers well. I get to be a grandad, give back to the community and still have plenty of time for holidays and other interests. The only problem is, I keep on buying things from the shop, my wife never knows what I'm going to bring home"!
If you'd like to volunteer at our four friendly shops in Poynton, Handforth, Macclesfield Chestergate and Thornton Square, please click here to apply online.

Juliette Lee, Complementary Therapist
"The power of touch, a hand on a hand a hand on a shoulder to make that lovely connection with someone". Juliette has volunteered as a complementary Therapist in our Sunflower Centre for a couple of hours every Monday, and occasionally for carers events. "I feel embarrassed at how grateful people are. I find it humbling to give them time for themselves" A widely experienced ex-nurse, Juliette found Complementary therapies a lovely way to move on from the profession,
qualifying in Reiki and reflexology, and hopes to continue to make a real difference for years to come.
Click here to join us as a qualified complementary therapist.

Fred Slater, Community Companions Volunteer
Fred became a volunteer in our Sunflower Centre Dementia sessions in 2018, then decided that his next role was to become a community companion, a 'buddy' role in someone's home, giving their carer vital respite for a few hours a week. His father had dementia, and Fred says, "He was an inspiration to me and now I'm retired this voluntary work is his legacy"
Fred talks movingly about those he works with – people with dementia, and the staff and volunteers "You might get someone who doesn't want to engage particularly, but you get a jigsaw out and suddenly they spring to life and they see the picture far better than me. The staff there are fabulous and I've learned so much. They're so professional with their patient and caring approach and are the real unsung heroes of the service.
In the community companion role the volunteer is matched with someone with similar likes and interests. More than a dozen community companions visit homes but they don't provide nursing care. They enjoy the company of individuals while their carers may go for a walk, shop or perhaps visit the library.
Click here to join the dementia volunteering team.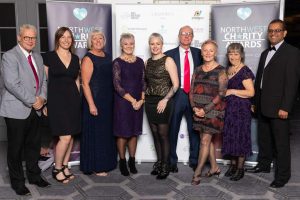 Picture are Fred and fellow volunteers were finalists in the Volunteer Team of the Year at the 2019 North West Charity Awards (Fred is centre right, with a pink tie).
Karyn Johnston, Hospice Director
Our Hospice Director Karyn Johnston has a substantial history of volunteering, so we thought it would be good to hear how it informs her role as ECH director.
For as long as I can remember I've been a joiner-inner, I would often hear my mum saying, 'That's our Karyn, she's in everything but the crib' so I've been volunteering since I was seven years old. My first role was as a water carrier for my Dad's football team, at school I was an older person's shopper, then I helped in summer schools for under privileged kids when I was a teenager. At university and into my late-twenties I was a Samaritan, on moving to Macclesfield I became a Magistrate and now I help out at Hospice events, am a trustee of the Roman Catholic Diocese of Shrewsbury and an active member of St Alban's, Parish Council. A wide variety of roles and I have loved every single one of them. I can fit my volunteering in around my full time work commitments, get to team up with wonderful people, have fun and use my skills and feel that lovely warm glow of knowing that I have made a real difference in my community.
Volunteers are the backbone of East Cheshire Hospice  – we literally could not function without their generous and unconditional support. East Cheshire Hospice is the sum of its volunteers and as a result we are all be proud to be part of it.
Volunteering has a positive impact on a person's wellbeing, I'd advise anyone to get involved and be well in mind and body. Obviously I want everyone to choose to volunteer for the Hospice as we need over 750 people to deliver the exceptional brand of compassionate care we give to our patients and families every day of the year. With over 20 distinctive volunteer roles, there is something to fit your skills, experience and availability – it's so rewarding.
I know from my days in advertising that the best form of it is recommendation, so I'm recommending volunteering for East Cheshire Hospice to you. You will be well looked after and have all the training and support you need to do a great job. If I may, I will paraphrase JFK 'ask not what ECH can do for you, but what you can do for ECH'. Try volunteering for us, and I guarantee you will love it!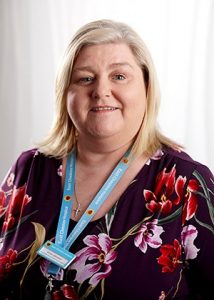 Elspeth Julian, Bereavement Counsellor
Elspeth has been a counsellor since the Hospice opened and she tells us about her thirty years volunteering, in her own words.
"In 1988 when the East CFheshire Hospice first opened, a Bereavement group of volunteers was set up by a social worker at the time. I was myself a practising social worker in Manchester and although I changed career and became a teacher, I missed the relationships you can only have in a caring profession, so I joined the Samaritans and then joined the newly established bereavement group. Over the first few years, I qualified as a counsellor whilst also teaching part time in a primary school. When I retired from teaching, I continued the counselling. I enjoy it because it gives me a purpose and I like being involved with a community. Recently, I've started working from September to May as my husband and I tend to go away quite a bit in the summer months.
I have two clients at a time. I will see them once and if they want to come back again we usually arrange five sessions, after which we review how things are going. This allows me together with my client, to work out what they need. I generally counsel the friends and relatives and occasionally patients themselves. Every person is different, and every situation is different. I feel very privileged to sit with people who are often at their lowest ebb and to provide a safe space for them to talk. My role is to help people to find their own way to cope with their loss.
The Counselling service in the hospice has not changed that much over the last thirty years: it's more regulated now and training is more important than ever. There's always been a dedicated counselling room and the one we have now is in a lovely quiet location. There's a growing group of volunteer counsellors and there are regular opportunities for us to meet. We're free to work using our preferred methods; there are many different approaches. I tend to use an integrative method. The Hospice abides by BACP guidelines and pays for counsellors' supervision.
When I'm not counselling I'm with my husband, three children and four grandchildren or I'm playing bridge. I also love the South Coast which we regularly visit to go walking."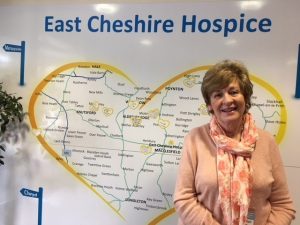 Rose Matthews, Community Dementia Companion
Rose from Poynton describes her two hours a week with her male dementia patient as rewarding and humbling.
She joined the army of more than 600 volunteers, who keep the hospice going, a year ago.
Rose said: "I don't work, my kids have grown up and I've got free time. I used to work in a caring profession and wanted to do something again.
I don't like to view someone as a dementia patient. That individual has a personality and it's about getting to know the person and developing an understanding of dementia and how it affects them.
It's all very informal and isn't a question of physical caring but being a companion. The gentleman's wife is his carer and when I'm looking after him, she has two hours peace of mind to spend on herself.
I visit their home and meet my client, we then go for walks or visit places of interest which always end with tea and cake, or an ice cream. If it's raining we might do painting, colouring or looking through photographs and picture books.
I feel as though I'm really helping the family situation by making a small but effective contribution. The couple of hours I spend with my gentleman each week are interesting, rewarding and enjoyable."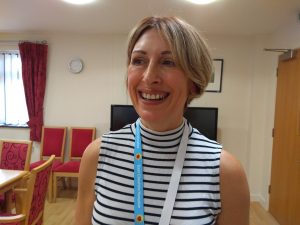 How Do I Apply?
To view our current volunteering opportunities and apply online, please visit Kinetic, our volunteering platform.