Have you got a

Birthday, Anniversary, Retirement Party, or other celebration

coming up?

Why not ask for donations to East Cheshire Hospice instead of gifts? It's an easy way to support the work we do an avoids endless bottles of bubbles!
Set up a Facebook Fundraiser
Fundraising through your Facebook profile is a great way to share your fundraiser with friends, family and colleagues, and Facebook donates 100% of the donations to the Hospice. Click here to set up your Facebook Fundraiser.
Helpful tip – prior to your Birthday, Facebook will send you a notification asking you if would like to set up a new fundraiser, click the notification and create your fundraiser.
Request a fundraising Party Pack
Click here to Request a fundraising Party Pack. Packs include:
Collection cube and buckets
Celebrating in aid of East Cheshire Hospice poster (A4 or A3)
Balloons
Bunting Flags
Paper tablecloths
Leaflets about East Cheshire Hospice
Donation envelopes
Wedding Fundraising
There are a lot of tasks when organising your Wedding Day, why not tick one off by supporting East Cheshire Hospice! There are many ways in which you can support us, like asking for donations instead of gifts when sending out your invites or choose a wedding favour to gift to your guests on the day:
Give them a Hospice scratch card for their chance to win, you're already lucky in love, so now share your luck with your guests! Costing £1 per scratch card, guests can win up to £200, request your scratch cards.
Gift them a Hospice badge, keyring, pen or Bride and Groom teddy to show them your support to the Hospice, we suggest a donation of £1 per badge or keyring. Find our more about Wedding Favours.
Donate directly to the Hospice in lieu of favours and let your guests know you've supported us when making your speeches.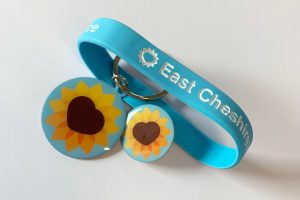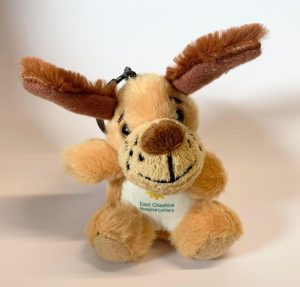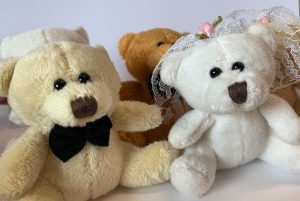 You could raise some extra pennies with the Best Man/Women's speech sweepstake, or even turn it into a game of bingo!
However you choose to support, know that you're making a difference to lives of local people that need our care. If you're interested in supporting us on your Wedding Day, please complete our online form and let us know.
Other ways to give in celebration
If you would like to collect donations when you send out invitations or on the day of your celebration, we can provide donation envelopes. Donation envelopes area a great option to give a gift in celebration, if your guest completes the gift aid details in full, we can claim an extra 25p for every £1 donation to us. This increases the value of the donation by 25%. Request your envelopes via the online form.
The easiest way to fundraise for your celebration is by setting up a Just Giving page. It's a simple way to collect donations and these go directly to the Hospice. You can also share photos and any updates with your guests. You could include the page link or QR code in your invitations. To start a page visit Just Giving's website.
You may choose to give a gift in memory of a loved one on a special anniversary. A lovely way to do this is by creating a Sunflower Tribute. We have more information about creating a tribute on our Gifts in Memory page.