From switching to local suppliers, ordering seasonal produce that lasts longer, reducing waste, and training staff and volunteers to follow more eco-friendly practices, we are taking action within the Hospice to increase our sustainability.
Click here to read about our seasonal daily menus
Click here to read about sustainability in the Hospice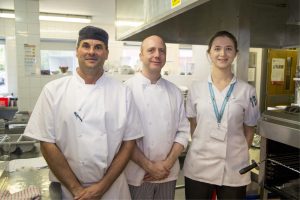 Smart Menus
We explore ways of using the same ingredients for different dishes, meaning we use cooking methods for meat, vegetables and herbs that make the most of ingredients.
Herb Garden
Here at East Cheshire Hospice we grow some herbs and vegetables in the Hospice grounds which we can use on our daily menu and pick fresh when required.
Patient Engagement
Our catering team visit our patients every day to assess their dietary needs. They create individual diet plans to suit the needs and wishes of ours patients, whether that's a low fibre smoothie or their favourite chocolate milkshake – the catering team have it covered!
Every meal made in our kitchen is cooked to order and follows a seasonal three week menu. We also source our food from local suppliers, not only helping our local economy but reducing our carbon footprint. Smart menus also mean we can minimise our food waste and utilise every ingredient we buy.
Read about our sustainable menus here.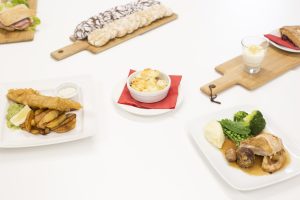 Recycling food waste
The waste coffee beans from our coffee bar are recycled in our gardens under rose tree to help with growth. The vegetable oil used from the kitchen is recycled into biodiesel as well as reusing tea bags for compost.
Waste management
We use Eco Recyling Services to manage out general waste at the Hospice. Once general waste bins have been collected, the waste collectors will filter through the waste to ensure all is recycled where possible, including paper and plastics. Cardboard and glass waste is stored in separate bins ready for collection and also recycled.