Working for the Hospice
Thank you for taking the time to visit our recruitment page.
We believe in recruiting for the right attitudes and training for exact skills. The nature of the care we provide to patients, carers and families is specialised and at East Cheshire Hospice, operates at a exceptionally high standard. We can only hope to maintain that standard through a caring, compassionate and well motivated workforce.
We need high quality, professional and like-minded people to join our multi-disciplinary workforce which includes: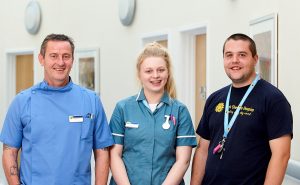 Clinical staff, counsellors and therapists
Art psychotherapists
Bereavement counsellors, social workers and chaplaincy/spiritual support workers
Clinical staff at all levels including trainee and trained nurses, ANPs, doctors and medical directors
Complementary therapists including acupuncture, aromatherapy, hypnotherapy, Indian head massage, therapeutic massage, reflexology and reiki, plus hair dressers and
Nurses trained in the management of anxiety, breathlessness, fatigue and lymphoedema
Physiotherapists and occupational therapists.
Non-clinical staff 
Administration, communications, finance, HR and IT managers and support staff
Estates management and support staff
Housekeeping staff including catering, cleaning and laundry
Income generation specialists including corporate/CSR fundraising, community fundraising, Hospice-owned fundraising, legacies management, lottery management, merchandising and retail development.