With the children out of school still, you must be struggling for new activities to keep them busy.
We thought we would put together a fun activity pack for children of all ages; they can colour, draw, write stories or bake whilst thinking about doing nice things for others – like the Hospice does!
Competition
Within the pack, we are also running an exciting drawing competition to win an adorable oversized unicorn teddy called 'Rainbow'. A beloved member of the Hospice fundraising team.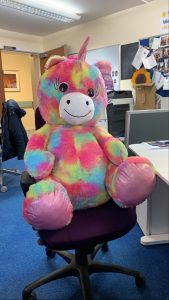 Complete the task in the activity pack and submit your drawing or drawings – either a photo or a scan – to www.eastcheshirehospice.org.uk/drawingcompetition
Make sure you enter by 5pm Sunday 31st May 2020 and the winner will be announced shortly after.
How to get your East Cheshire Hospice activity pack?
Complete the form below and leave a small donation to the Hospice. We have suggested £3, but you can leave whatever you would like to.
You will then receive a link to download the activity pack. This will also come to you via email.
If you don't receive anything, please contact us on fundraising@echospice.org.uk or via social media.
We hope you and your children enjoy the activities & make sure you share their masterpieces with us!