Take a look at what East Cheshire Hospice is already doing:
Events
We will not be providing T-shirts for our events due to the large amount of water usage in making them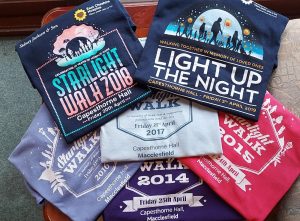 Plastic medals will be replaced by wooden ones

We will reduce our use of single use plastic
Retail
Whether it's brick-a-brac, clothing, jewellery, shoes, hats, bags, furniture or rugs our Retail outlets are all about preloved, reusing and recycling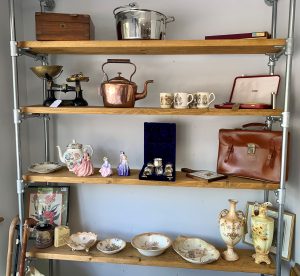 The Hospice has four retail outlets – two in Macclesfield, one in Handforth and one in Poynton. Between them they raise much needed funds for the Hospice whilst at the same time saving unwanted items being dumped in landfills
Shop with Us – East Cheshire Hospice
Our retail staff and volunteers are very clued-up on what can and what cannot be recycled. Anything we cannot use is sent to CTR recycling and the team have visited their site to see how they reuse, recycle, and repurpose practically everything!
IT
We recycle all ink cartridges from our printers and photocopiers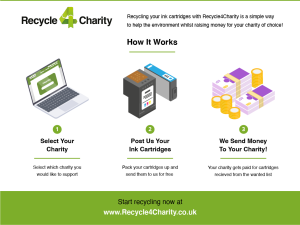 Facilities and General Services
Food Waste
We reduce our food waste by using smart ordering and menus
We engage with our patients to find out what food and portion sizes they prefer during their stay at the Hospice
Old vegetable oil is collected by a local company and recycled to make Biodiesel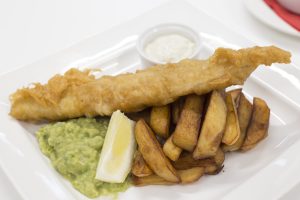 Animal Welfare
We use free-range eggs across all our menus
All our fish dishes are produced from Certified MSC (Marine Society Certificate)
Organic – we try to use products that are certified to have grown on soil that had no prohibited substances applied for three years prior to harvest
Red Tractor – we use a local butcher who provide us with meat and poultry which is traceable, safe and farmed with care, checking every step of the food journey from farm to fork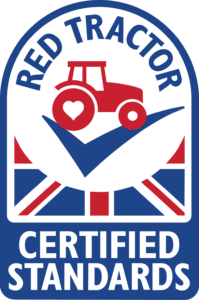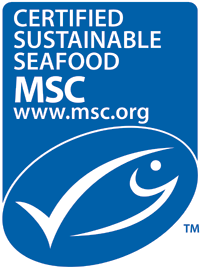 Fairtrade and Rain Forest Alliance
Supporting the three pillars of sustainability – through social, economical, and environmental, we try to purchase Fairtrade and Rainforest Alliance products wherever possible.
Recycling
We use Eco Recycling Services to manage our general waste at the Hospice
Once the general waste bins have been collected, they will filter through the waste to ensure all is recycled where possible, including paper and plastics
Reuse not Waste – we encourage staff to bring reusable water bottles to work to refill at water fountains
Cardboard and glass waste is stored in separate bins ready for collection and also recycled
Our local scrap man calls in regularly to collect any scrap metal for recycling
We collect and recycle batteries, light bulbs, ink cartridges and IT hardware
Used tea bags and ground fresh coffee beans are recycled for our rose trees and shrubbery.
Feeding the Bees
Our gardens have been created to be bird, bug, and bee friendly, they have been populated with
wild flowers and only organic compost is used.
What happens to our waste?
Cardboard and Paper
Cardboard and paper is collected on a Wednesday with our refuse truck. The contents is then taken back to our site in Stoke on Trent , tipped off into a pile and is then put through a baling machine.
The card and paper is baled on site. After this process, the bales are lifted onto a trailer and when full, transported to one of the cardboard mills in this country. Most often than not, we use Smurfit Kappa, which is situated in Blackburn. From there, the cardboard and paper is re-processed for new packaging.
Did you know that a cardboard box is recycled up to 7 times during its life time?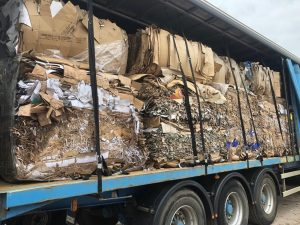 Hard Plastics and Soft Plastics
Plastics are collected on a Tuesday along with the general waste. Once its taken back to our site, it is tipped off and sorted through, by hand.
When the plastics are segregated into hard plastic and polythene plastic, it is sent off to different avenues:
Hard plastics: Get baled on our site, loaded onto a trailer and delivered into a plastic mill in the UK. Most of the time, we use a company called Van Werven UK ltd to send in the bales. When it is delivered to them, it gets re-processed and is ground into pallets for manufacturing new plastic products.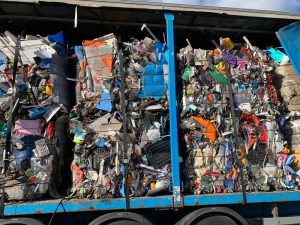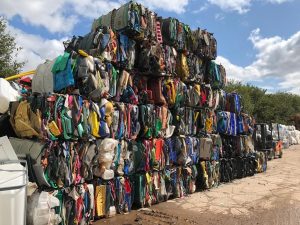 Polythene (soft plastics)
This is segregated at our site, baled and is then sent to Holland via European transport. It is then re-processed into plastic pallets for new products. Tonne bags are also sent the same way.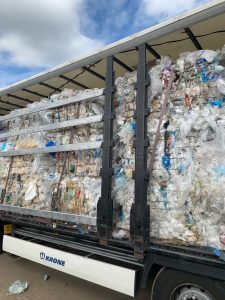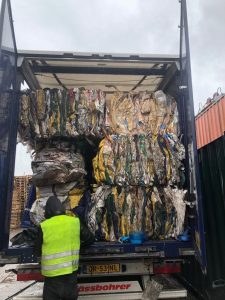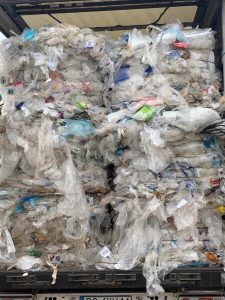 General Waste (including food waste)
All general waste is sent to waste plants, mainly Stoke on Trent 'waste to energy'. Here is where the waste gets used to make energy.
We are in talks with E-ON at the moment to send all of our food waste into them for energy.