East Cheshire Hospice is having an even greener Christmas with its tree collection at the heart of its eco-friendly plans.
All trees collected on Saturday, January 11, and Sunday, January, 12, will be recycled  by Ansa Environmental Services, a subsidiary of Cheshire East Council, at its West Park site.
The donations received from owners for removing their trees funds the care of Hospice patients, their families and carers.
The recycled trees are turned into mulch which is either turned into compost for parks and gardens or used in biomass boilers.
The green push has continued this year with the introduction of flyers printed on recycled paper which can then be re-used. Cardboard leaflet holders have also replaced plastic versions.
Visit  www.echtrees.org.uk, or call the customer care hotline 01625 708939, to register a tree for collection.
The scheme run by volunteers has raised more than £1m for the Hospice since it began 20 years ago.
The collection covers  Macclesfield, Wilmslow, Alderley Edge, Bollington, Prestbury, Poynton, Congleton and Knutsford. The post codes are CW12, SK9, SK10, SK11, SK12 and WA16.
An environmental study showed that an artificial tree would need to be kept for more than 20 years before it would be more carbon efficient than a real one.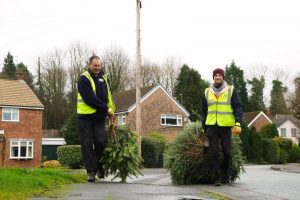 –
FIVE intrepid trekkers raised more than £18,000 for the Hospice from a trip to Nepal last month.
Staff members Sarah Dale and Louise Delany were joined by medical writer Jonathan Edwards,  Helen Connolly and Sherry Daniels.
The group helped paint a hospice in Kathmandu before an arduous five-day walk which boasted stunning views of the Annapurna mountain range.
Louise said: "It was tiring and hard work, especially as we had to climb 3,500 metres, but it was a rewarding and enjoyable experience.
"The people we met were lovely and on behalf of us all I'd like to everyone for their wonderful generosity donating much-needed funds for the Hospice."
The next adventure is a trip to the Great Wall of China (March 19-27) in 2021.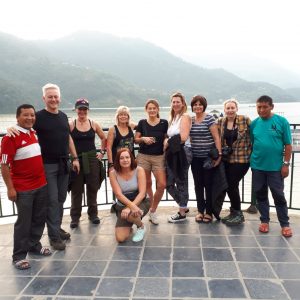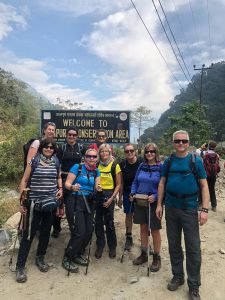 –
ALMOST 7,000 schoolchildren and teachers took part in the Santa Dash, one of East Cheshire Hospice's biggest community events of the year.
Pupils undertook a sponsored walk or run either in their school hall or playground, marking the 11th year of the festive event.
The Reindeer Rush is back next year, with Elf Runs and Snowman Sprints in subsequent years.