Will you help us put solar panels on our Hospice roof?
---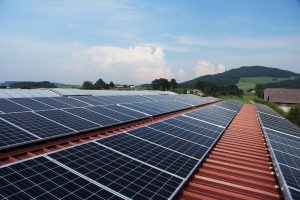 It is undeniable that the health of our community and the health of our planet are intrinsically linked.
As part of our commitment to care for our community for many more years to come, we also have a commitment to protect the ground we walk on and the air we breathe.
The effects of climate change are becoming more severe. With rising sea levels and temperatures, it is vital to think to the future and what we, as a community, can do to help. Investing in renewable energy is the way forward.
As a Hospice, the past two years have seen us completely change the way we fundraise. From the cancellation of our events to virtual fundraising to navigating the everchanging 'new normal', it has never been a more difficult time to raise the vital funds needed. Yet our services have never been more important.
The wrap around, holistic care we give to our community is only possible because our nurses have the time and resources to make every moment count. With energy prices rising, solar panels will cut our costs and means more of your future donations will go directly to patient care.
Installing solar panels is part of a proactive and long-term solution to the increasing costs and care demands that the Hospice faces, as well as helping to protect our environment.
By donating to our solar panel appeal, you will be ensuring the future of East Cheshire Hospice.
Redesign for our patient garden
We are beginning work this Spring to revamp our courtyard for patients and their families. Find out more about the design and progress so far.
Redesign of our patient garden
Tailored diets and smart menus
Our catering team visit our patients everyday to assess their dietary needs. Find out more about diets and smart menus.
Tailored diets and smart menus created by our chefs
A Summer of open gardens!
Recycling your clothes and furniture
Our charity shops thrive off receiving your pre-loved clothes and giving them a welcome new home. Find out more about our shops.
Recycling your clothes and furniture
Our knitters and crafters
We have an army of wonderful knitting and craft groups and volunteers who create a huge range of items for the Hospice. Find out more.
Our knitters and crafters
Serenity Garden make over 2022
---