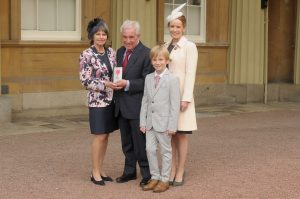 Rob Barrow DL, a former Chair of Trustees at East Cheshire Hospice, has been awarded the MBE for his services to the community.
Wife Pam, daughter Fiona Hobbs and grandson Kit Hobbs joined him at Buckingham Palace where he received the honour from the Queen.
Rob, from Macclesfield, helped set up the Hospice @Home service at East Cheshire where he also strengthened the charity's governance during his three years at the helm.
The MBE was awarded for services to education, charity and various philanthropic activities.
Rob and his wife have devoted much of their energies towards helping good causes since he retired from business 16 years ago.
Charities supported include Cre8, Cheshire Community Foundation and the National Trust. Rob is a former governor of The King's School, Macclesfield.
Rob founded a computer software company which employed more than 600 people worldwide and his work took him to Silicon Valley, California, at a time when the internet was in its infancy.
Rob said: "I was humbled, honoured and flattered to receive the MBE and we were nervous when we found out the Queen was issuing the awards."