The Dream Beams donation provides vital funding for the Childhood Bereavement Service run by East Cheshire Hospice.
During a 12-month period it supported 226 youngsters, aged between four and 18, and more than 1,000 family members.
A child who has experienced bereavement within the last three years, or is about to be bereaved, can be referred, even without a Hospice link.
Services include counselling and educational support for teachers and fellow pupils.
Dream Beams chair Katie Jordan had no hesitation supporting the service after learning about its work from April Green, the Hospice's Key Relationships Manager.
Katie's committee agreed to donate proceeds from their charity ball towards the service which began almost seven years ago and needed external funding to continue its development.
April said: "The Child and Adolescence Mental Health Service (CAHMS) refer all their bereavement cases directly to us and if this service didn't exist these young people would have no support at all.
"Our mission is to be the 'the go-to place' for all referrals and to be considered the centre of excellence for childhood bereavement services in East Cheshire."
Karyn Johnston, Hospice Director, said: "The monies raised from the Ball will make a lasting difference to the lives of children and young people suffering a loss of a loved one, or close relative, and give their families, carers and teachers the tools to guide them through their bereavement journey.
"On behalf of everyone at the Hospice, and those in our care, we offer our deepest gratitude."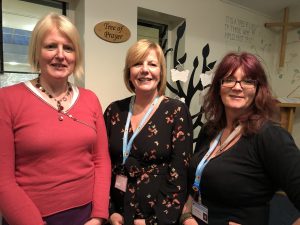 East Cheshire Hospice Key Relationships Manager April Green (centre) with the charity's child therapists Jane Burton (left) and Lindsay Dobson