There are lots of different ways that schools can get involved with East Cheshire Hospice, from taking part in our events, to organising your own fundraising activities in your school, to volunteering.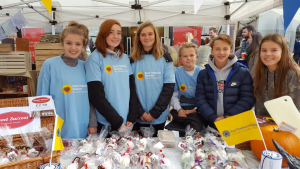 We will support you with your fundraising by delivering presentations, attending school assemblies and providing fundraising materials.
We also have some fantastic fundraising initiatives targeted specifically at schools and young people, these include;
Dragons Den Enterprise Competition, Manchester Airport Community Network, September
How does it work? Students are asked to develop a Christmas present for friends and family, retailing at £5 or less. The teams set themselves up as a virtual business taking into account all aspect of business needs.
Schools bid for a business set-up loan of £100 in a presentation to Dragons in the Den. All profits made from the programme go to East Cheshire Hospice.
Christmas Fun Run, December
This year it's our Elf Run!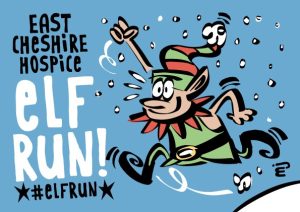 Click the graphic above to visit the page, find out more and sign up!
How does it work? It's simply a sponsored walk, run, dance or any other fun activity you can think of. You set the date and distance, using your own playground, hall, field or local park. Just get in touch with us and we'll give you everything else you need. You'll get:
• Festive Elf Hats for all the children taking part which they get to keep •  Sponsorship envelopes to collect money from friends and family
Working with your local Hospice is a great opportunity for schools and students to gain an understanding of what the Hospice does, learn about supporting their community, and it is a fantastic addition to any CV, or college or university application.
By supporting the Hospice, you will be helping us to continue to provide our services to the people in the community who need us. Last year, (schools like) you raised over £80,000 by participating in the Jingle Bell Jog and this meant we could give 232 days of overnight care to patients with life limiting illnesses.
If you'd like to get involved with your school or youth group, whether you're a teacher, youth leader or student please contact Community Fundraising Team on 01625 664993 or email fundraising@echospice.org.uk to discuss how we can support you.